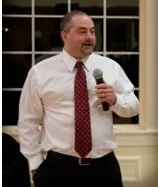 Christopher DePierro, Founder, New England Radon Solutions
Our founder, Chris DePierro, has been active in the home trade business for over 30 years. He has spent his primary years building, remodeling, and investing in income properties.
During this time, he began to educate himself on new trends for keeping homes environmentally safer. Having three children of his own, it became a personal mission to understand best practices for keeping his homes protected from radon, a natural element that threatened to endanger the well-being of his own family.
This new awareness sparked a strong desire for him to invest his time, money, and resources into becoming certified in Radon Testing and Radon Mitigation. He now has the distinct recognition of certification by the Environmental Protection Agency. He is a proud member of AARST, dedicated to continued education and innovation in the field of radon protection.